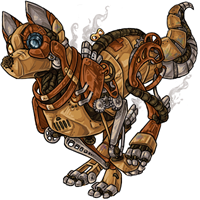 Steamwork is a color that pets can be turned into by using a Yunium Key and pet schematics at Full Steam Ahead. You can buy schematics at Purveyors of Plans between 8:00 am and 8:00 pm Subeta Time.
Steamwork features pets made up of mechanical pieces in steampunk fashion.
Note: You can also make a Steamwork pet from scratch (without having to create a pet beforehand). This will result in the pet being genderless (

).
See also
[
]