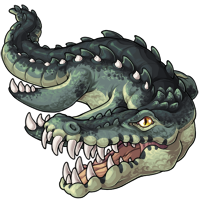 The Qrykee is a crocodile pet.
Appearance
[
]
The Qrykee (KRIKE-ee) is a large blue-grey crocodile with sharp white teeth and golden eyes. Instead of legs it has flippers that are also covered with teeth.
Did You Know?
[
]
Was previously known as Experiment #716
It was created by Euclid from the DNA of the "Centropolis Sewer Beast"
It can only be adopted from the Pet Zapper for 500,000 sP
They span 9-10 feet (2.7-3 m) from nose tip to tail tip, and they tend to weigh around 500 lbs (227 kg)
A Qrykee hatchling is called a "croquette", named by Euclid himself
Qrykee is a reference to the word "Crikey", which is the famous slogan of Steve Irwin the Crocodile Hunter
It was originally thought that Qrykees would make ideal guard animals. Instead, they are aloof and somewhat lazy, with a tendency to get fat if not exercised properly.
Qrykees are obligate carnivores and tend to be picky eaters.
Notable Qrykee
[
]
See also
[
]