Gold Accounts are premium accounts, which can be bought from the Cash Shop for CSC, or from other users (via Gold Account Medals) for sP. or through a subscription.
Prices
[
]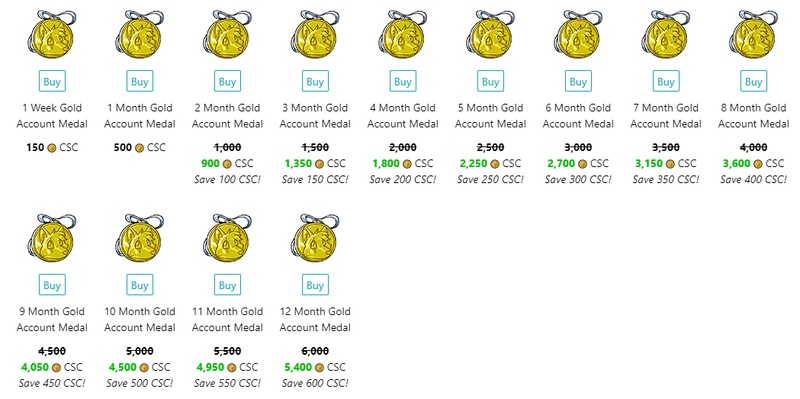 Gold Account Perks
[
]
Autopricer - Automatically price items in your shop once per day.
Additional Shops/Galleries - 6 total.
More Items per Shop/Gallery - 2.5k for shops, 10k for galleries.
Check all pets into the Lakeview Resort at once.
Decreased Training Time - Reduced by 15%.
More Quests - 15 quests per day, instead of 10.
GA Forums - Exclusive board.
Beta Tester - Preview new features.
GA Trophy - A special trophy for your profile.
Additional Wearables - Can wear up to 45 items at once, instead of 30.
More Random - 1.5 hour wait.
More Mind Reader - 35 plays per day.
More Reflection - 2 hour wait.
Additional Inventory Slots - 250 slots total, instead of 100.
Additional Inventory Locks - 10 locks total.
Pet Leash - Display your active pet underneath your avatar on the forums.
Transfer multiple Treasure Chest slots from pet to pet.
Extra Weapons and Scroll Sets - 5 sets.
More Space Inside Gift Boxes - 10 spaces.
Ability to quickstock items into collections.
No ads on the site.
Subscriptions
[
]
Subscriptions started on 12th July 2020 to replace the current system. It has 4 different tiers of varying prices, each with a monthly renewal plan if wanted and different perks per level. Subscriptions cost real life money (prices shown are always in USD).
Keeper Tier

[

]
Quester Tier

[

]
Councilor Tier

[

]
Goddess Tier

[

]
$15 a month
Gold Account
1 special subscription item
2 Buddy Gold Accounts
3 Custom Wearable Vouchers
2 Stamps for your Loyalty Rewards Card
External Links
[
]