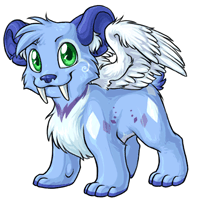 The Clawsion is a beast-based pet.
Appearance
Edit
The Clawsion (CLAW-see-on) is an ice-blue mammal with traits from both cats and bears. It has large round ears, wide emerald green eyes, and prominent sabre fangs. Its body resembles a stocky, bob-tailed cat with a pair of white-feathered wings. Its chest, belly, and diamond-shaped markings are blue-white; smaller diamond markings and a collar-like marking at its throat are lilac; and its ears, nose, the soles of its paws, and the tip of its stubby tail are dark blue.
Did You Know?
Edit
Clawsions are omnivorous animals, feeding mainly on pine sap, insects, shellfish, and honeycomb. Their fangs are used primarily to bite through tree bark to get at the sap.
Clawsions need to chew on things regularly to keep their teeth clean.
The Klawsion is a minion with a strong resemblance to this pet.
They are native to the forests of Arctic Frost.
They stand at about 12-16 inches (30-40 cm) tall and can weigh anywhere from 50-55 lbs (22-25kg).
A baby clawsion is known as a "sapling."