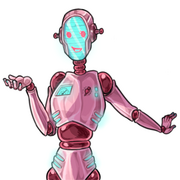 The Cash Shop is where Subeta gets its funding from and is run by Jane the CS Robot. It is an online store that users can buy items and upgrades with Cash Shop Credits which costs real money (eg. $US). There is a refund policy for Cash Shop items. If you purchase an item and within 10 days the price changes, file a ticket to get the difference in CSC. Note: They will not be matching prices for items purchased prior to the Black Friday sale.
The Cash shop is divided up into several categories.
Credits

[

]
Users can buy Cash Shop Credits from here. They come in increments of 500, 1000, 2000, 2500, 3000 and 5000. Depending on which tier you buy, you will get bonus CSC on top of your purchase. So for 1000 you get 25 bonus credits.
Monthly Subscriptions

[

]
You can now choose to pick the monthly subscription, which will give you certain perks depending on which tier you choose.
GAs

[

]
Gold Accounts can be purchased from this area.
Buddy Gold Accounts

[

]
This is where your Buddy Gold Accounts can be gifted to other users if you have a subscription.
Items

[

]
Buy the latest Monthly Collectable and other assorted items from here.
Boutique

[

]
Subetan designer Delish has her range of clothing here.
Chance

[

]
This is where all the Cash Shop Chance Machines are located. Come here to try your luck at winning a rare item.
Bonus Items

[

]
This is where you come to buy the Weekend Bonus Items from previous months.
Buy a Neela from here or other assorted items.
Trunks

[

]
Items previously obtained from a Mysterious Costume Trunk are from this area. Buy the whole trunk or separate items.
Cart

[

]
Head over here when you're ready to buy your items.
Hustler

[

]
See what item the Hustler is selling in this area.
Custom Wearables

[

]
Custom Wearable can be created or bought from this tab.
P

reviously in the Cash Sho

p

[

]
Charms

[

]
This is where Subeta Charms are ordered through.
Bobbleheads

[

]
Your Bobblehead Collection is viewed here.
Offers

[

]
Earn CSC by doing off-site offers here.
Gifts

[

]
Send a special gift to a friend here.
See also
[
]